Program > Divisi utama > Message from Principal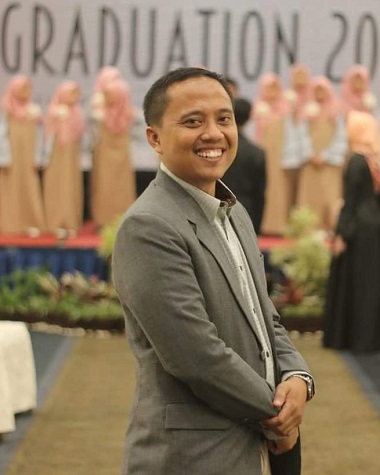 PEACE BE UPON YOU
Assalamu'alaikum wa rahmatullah wa barakatuh

Witnessing young children from being novices in basic literacy and numeracy into pre-adolescent learners who are ready for teenage life in secondary education is always a magical moment for primary school teachers. We, Primary Division, Al-Irsyad Satya Islamic School, are proud to manage the pathway for the students' journey to be future leaders, of which our role is to plant and grow the seeds of Khalifah Fil Ard achieving academic excellence through akhlaq.

The academic quality that we strive to achieve is driven by the international benchmark of Cambridge Primary Checkpoint for English as the First Language, Science and Mathematics. Our students are coached to develop their critical and logical thinking skills and inquiry learning habits. These skills also benefit the students to be prepared for the school exams of the National Curriculum, as they possess the necessary learning tools to study any content. Moreover, our students experience bilingual Islamic learning with international resources that will enable them to not only understand and apply the teaching but also become the agents to show to the world the beauty of Islam.
We believe that this academic quality can be pursued by students if they have good akhlaq. Their learning adab is developed through the implementation of rules and procedures and also the collaborative learning process of which students are guided to learn together to achieve learning goals.

This creates engagement that they are bonded in brotherhood and sisterhood in a learning community. Their specific habits are also established by means of the Integrated Seed Character Building programme of which students are nurtured to be disciplined and respectful to others, confident in speaking English, committed to perform shalah with khusuk, determined to read the Quran and memorize Juz 30, and be passionate about reading books. The supportive programmes like Student Leader, Extracurricular Activities, and Scouting help to build their confidence. Without character, academic excellence is pointless.

All these things are part of the learning journey and we see the school as a living institution. We can teach better when we learn more. Therefore, the school provides numerous training for teachers from Cambridge trainings to IELTS classes. For new teachers, there is an induction programme where they are trained to learn about the school culture. By having more professional development, these teachers can be the guardians of the generation tracing the path to evolve to become young Muslim leaders who aspire to spread rahmatin lil alamin in the world. Amin.

I welcome your children to our school. Together with my teachers, I am committed to develop them to be the best that they can be.

Wassalamu'alaikum wa rahmatullah wa barakatuh


Your Sincerely,
Deden Rahmat Hidayat